Optimal Screen Resolution:
1280 x 1024
MENU
<![if !vml]>

<![endif]>
<![if !vml]>

<![endif]>
<![if !vml]>

<![endif]>
<![if !vml]>

<![endif]>
<![if !vml]>

<![endif]>
<![if !vml]>

<![endif]>
<![if !vml]>

<![endif]>
<![if !vml]>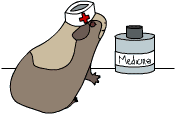 <![endif]>
(Click here to find out more!)
Read Peterís New Online Book:
†(Hosted by the Winking Cavy Store)
Questions/Suggestions about the site?
Contact the Webmaster
VISITOR:
Since 15th July 2002
The fact that my initials in reverse are the same as those of the guinea pig strikes me as a touch of the fickle finger of fate. Since they came into my life, some seventeen years ago, they have enhanced it immeasurably.
I hope that my efforts to improve their husbandry and veterinary care has paid off part off the bill for all the joy that they have brought into my life and this site is aimed at being the continuation of the servicing of that huge debt. I also hope that this site will help to make up for the lack lustre performance of all those that are supposed to be responsible for, and make a great deal of money out of, the welfare of these animals.
I (and I know many other owners as well) long ago gave up expecting our concerns to be listened to, so if the profession and the State refuses to help us then we must help ourselves, hence this site.
Peter Gurney, July 2002